FluentPro Products
Business Intelligence
Configuration Management
Migration
Reporting
Project Server Add-ons
Solution Starters
Project Server 2013 Dashboard for Project Managers
FluentPro developed a dashboard for project managers - tool for project managers that shows current project status, project progress tracking and estimation accuracy. Dashboard is deployed as page within PWA and using integrated security of Project Server 2013. Dashboard is accessible from Project Center via button on the Ribbon.
Screenshots
Video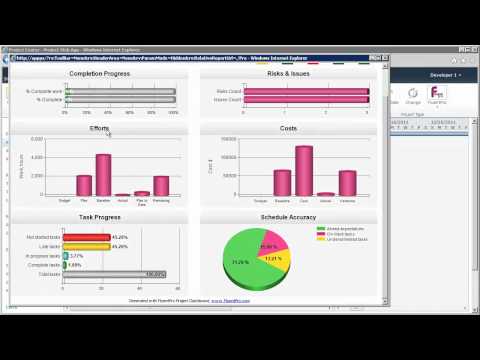 Additional materials
Technical requirements:
Project Server 2010 SP1
SQL Server Reporting Services (SSRS) 2008 R2 in SharePoint Integrated Mode
If you have a farm with load balancing (software or hardware), you will need to have Kerberos configured for farm
Farm Admin account for software installation;
Software should be installed on App Server in your Farm
Service Account running Project Server Events Service 2010 service should be a user in PWA and be a member of Administrators Security Group
Support, Warranty and Installation:
We provide 15 days money back guarantee for purchased license
Any download and installation of product and/or purchase of license for software means that you read, have the power to accept and fully accepted the EULA published on this website.
FluentPro Software Inc limit of responsibility cannot be higher than amount paid for license. By purchasing license you accept this statement without any additional conditions and accepting the responsibility limits. If you do not agree or your corporate rules are different - please do not purchase the software.
All products are licensed per PWA if other is not specified. If you need to deploy product to multiple servers / PWA you will need to purchase additional licenses
1 year of email-based / online help desk support is included
Before purchase of license for software you can install trial version of software with limited functionality by downloading it in the section below. When you purchase and install license, product will be converted to full-featured version.
Premium maintenance package with phone support and free major updates can be purchased. Please send you request to sales@fluentpro.com for more information.
Request a Demo
Download / Buy License Online
Product is available for purchase. For purchase / quote / invoice - please contact us.